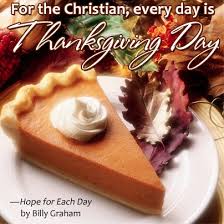 http://archive.org/details/wolcottchristianchurch.org--i-am-thankful--i-am-thankful-part-1-for-people
I believe that God desires for us to be thankful by being a blessing to others. The group that I just named off was easy for me because each of those individuals and groups have loved, supported and encouraged me.
Here is another angle about being thankful for others ……… What about the people around me that don't necessarily love, support and encourage me?
I Thessalonians 1:2, "We always thank God for all of you and continually mention you in our prayers."
The Apostle Paul in his letter to the church at Thessalonica states that he thanks God for "all of you". Did the Apostle Paul literally mean all of them? Do you think that all the people in Thessalonica church loved, supported and encouraged the Apostle Paul?
II Thessalonians 3:6 "Beloved brothers and sisters, we instruct you, in the name of our Lord Jesus Christ, to stay away from believers who are unruly and who stray from all that we have taught you."
Here is the same group of people and the Apostle Paul is warning them to stay away from unruly believers. I don't know about you, but I don't think it is much of a reach to say that some of the people that the Paul wrote to earlier were a part of the "all" that he said he was thankful for.
The question is how can we be thankful for "all" in "all" situations?