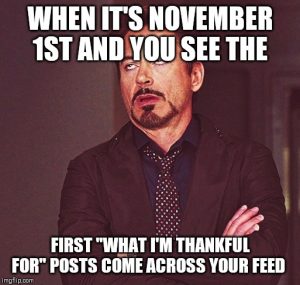 I'm not gonna lie I laughed, really hard, when I first saw this.
When I regained my composure I thought, "That's terrible!"
But it's true.
Hello, my name is Katie Kochert and I am the unthankful Christian.
There, I said it, I'm not thankful.  It's not something I'm proud of but it's true and that's what we're here for.
The truth.
That's why you read my mess of a blog and that's why I agreed to write it, because only honesty can help us to grow and if we're not growing life becomes very gray.
I am so frustrated with myself though!  I mean, I'm a Christian!  I AM going to Heaven at the end of this life, guaranteed!  That alone should make me so grateful that other people can't even stand to be around me!  So what's wrong with me?
Well, it feels fake to me, it shouldn't feel forced if it's genuine.  You can't tell me racking your brain every day so you can post something your thankful for on social media is all genuine!?
Or is it?
Some people truly are grateful, they're living thankful lives, so what am I missing?
Looking back, I'm not the only one that was missing something though. Look at "the grumbling Israelites", as I like to affectionately refer to them as.  They CONSTANTLY forgot what God had done for them and they were seeing real life miracles right in front of their faces!  I mean, have you walked through the Red Sea lately??
But I don't want to be "the grumbling Katie, modern day Israelite", I know what God has done for me and what He's doing for me right now and that He's working out my future but how do I live thankful for it all?
I am unsure.
To be continued as I grapple for the answer….
Please let me know what you think?!  I need your help.
How do you live a thankful life?
What makes someone's thankfulness genuine?
We'll talk soon.
God bless,
Katie