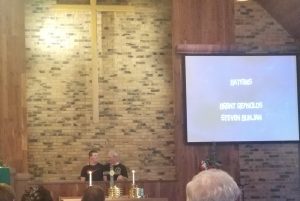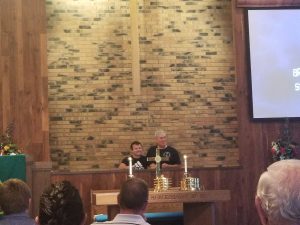 When I was 10-years-old I found a small black and white sonogram photo of a baby sitting on top of our entertainment center in the living room.  I asked my mom who's baby it was and she quickly dismissed my question with a vague response. Unfortunately my 10-year-old self was not conscientious enough to put the pieces together until mom and dad sat my then, 2 sisters and I down and delivered the news.  My 1st response was, "Awww I should have known, I saw the picture! Duh!"  But my embarrassment quickly gave way to excitement!  And it was to be another sister!  We would be the 4 Langellier girls now.  This was my 2nd little sister but since Jessica and I are only 19 months apart I wasn't old enough to remember, but for Paige I remember well, the excitement, watching mom with eager anticipation as the day grew near and the goosebumps of excitement as she arrived!
I got these same goosebumps of excitement this past Sunday when Pastor announced we would be baptizing not 1 but 2 young men that day!  It brought me back to that day at 10-years-old.  Two new brothers today!
Brent Reynolds was up first, the smile on his face as he stood in the baptismal water and faced his new church family said it all.  It was one of those smiles that hurts your cheeks if you hold it too long. Afterwards I got to talk to Brent and that smile had not dissapeared.  Although Brent wasn't ready to share his coming to Christ story he did share that he felt quite nervous before today.  He wasn't sure what to expect at all, he wasn't sure how he would feel or what would happen.  But stated that as soon as he came up from the water he felt, "Good.  Happy."  That giant smile on his face as we spoke definitely confirmed his feelings.
Next up was Steven Bunjan, such a high spirited, energetic young man that the spring in his step was so high as he walked toward me,  I thought he may bounce up to the ceiling!  In talking to him I learned that Steven, like myself, had been baptized as a baby and he was getting re-baptized that day.  He stated he wasn't nervous at all, he was just very ready to get it done and, I could tell, was ready to take on the world now!
Both of these young men are going to do great things for the Lord and guys, as your new family, we will be praying for you, because there are tough times ahead, there's no doubt about that, but we're here for you because as of that moment you came you put your faith in Jesus,  we are family!
Welcome to this crazy family, brothers!
Love,
Katie