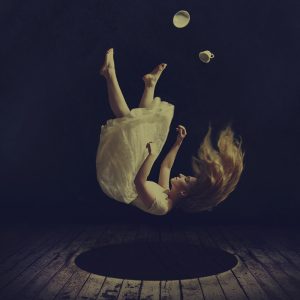 Good morning dear reader,
It's confession time.
I fell apart last week.
Am I the only one that falls apart from time to time?
Like the wake up on Saturday morning and say, "Who lives here?" kind of falling apart.
As I looked around at the dirty laundry in the laundry room and the dust on the mantel in the living room and the little piles of clutter in the kitchen and the bedroom I wondered, "I know I just woke up from sleeping last night but if feels like I've just woke up from sleeping all week!"
So, I think back on my week and realize, oops, I've eaten junk food all week, ate enough sweets to put a child on Halloween to shame, slept on average of 4 hours and 24 minutes per night, according to my Fitbit, and I don't remember one full conversation with my husband or children.
But why?  Oh my!  Could I have been…depressed?
But I don't suffer from depression!
How could this have snuck in on me like that?
Is that possible?
Yes . it . is . possible.
Let me show you exactly how.
1 Peter 5:8
"Be sober minded; be WATCHFUL.  Your adversary the devil prowls around like a roaring lion, seeking someone to devour." 
But really, this can't be, I just published a blog post about being the light in the midst of the darkness!  No way the darkness could have devoured me!?
Well, it did.
And I didn't even know it!  The enemy is sneaky my friends.  And if we are not consuming ourselves with God's truth constantly the enemy will happily sneak in to devour our joy.
So, I quickly sat myself down at the kitchen table with my journal and started writing.  I hadn't written anything for days.  Writing is my outlet, it always has been.  And if I don't get things into writing I can't make sense out of my thoughts, they remain a jumbled mess in my mind and gone unresolved I fall apart.
As I wrote God revealed to me that there were several situations that week that I had tried to avoid that were bothering me more than I wanted to admit.  So, I quickly prayed and took action to resolve them.  My husband always says God helps those who help themselves and what he means by that is we cannot always just sit back and pray, sometimes we need to take action, so I did and you know what, it was hard and there were definitely some restless nights surrounding it, but I felt at peace with my decision because my action will hopefully help not just me, but others as well.
The other component of a week like this for me is that unresolved emotions can and did result in physical pain.  I have autoimmune disease and if I do not mange my stress, I suffer migratory joint and muscle pain that will all but cripple me.  So, Saturday night I went down.  I couldn't use my left arm at all because my shoulder hurt so bad and walking was very difficult because of the pain in my hips.  When I have a flare up like this, I can't do anything but sit, which for a Type A personality is torture!  Thankfully I have learned that even when my physical body fails me the spirit of the Lord will not, so as I rested and prayed my physical body was restored and so was my spirit.
I encourage you, my friends, to stay focused.  Stay humble. Stay sober minded.  And Trust. That's what learning to live is all about; learning to live for Jesus, according to the word of God.  It is possible and we can have the victory, if not today, then tomorrow, if we continue to grow and learn from our great teacher.
Love,
Katie
P.S. Please stay tuned, as over the next few weeks I have the great privilege of sharing with you the stories of several brave women whom have battled with depression and I pray you will be as blessed by their stories as I have been.