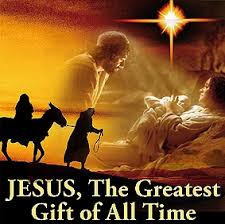 http://archive.org/details/wolcottchristianchurch.org--jesus-gods-gift--jesus-gods-gift-part-2-giving
II Corinthians 9:15, "Thanks be to God for his indescribable gift!"
God gave us the most incredible gift some 2,000 years ago in the person of Jesus Christ.
Again, remember the purpose for this "indescribable" gift.
Matthew 1:18-21, This is how the birth of Jesus the Messiah came about: His mother Mary was pledged to be married to Joseph, but before they came together, she was found to be pregnant through the Holy Spirit. 19 Because Joseph her husband was faithful to the law, and yet did not want to expose her to public disgrace, he had in mind to divorce her quietly. 20 But after he had considered this, an angel of the Lord appeared to him in a dream and said, "Joseph son of David, do not be afraid to take Mary home as your wife, because what is conceived in her is from the Holy Spirit. 21 She will give birth to a son, and you are to give him the name Jesus, because he will save his people from their sins."
The greatest gift was given to save people including us from our sins. Jesus went to the cross and experienced the wrath of God against sin for us. We deserved to take that wrath ourselves, but Jesus took it for us. That is why The Gospel is referred to as "The Good News".
I would encourage you today to consider the wonder of God's greatest gift Jesus Christ. I would encourage you to accept God's gift and believe in Him today if you never have.
Romans 6:23, "For the wages of sin is death, but the gift of God is eternal life in Christ Jesus our Lord."
Each of us deserved spiritual death, but God gave us the indescribable gift in Jesus Christ to save us from our sin if we will simply believe in Him.
We are going to spend the rest of our time this morning talking about how God's greatest gift Jesus should affect our giving.
A pastor shared this ……….
My wife and I refinanced our house and cashed out what was (for us) a large sum of money. I spent several weeks dreaming of ways to spend it.
It was near Christmas, and I had been studying the birth of Jesus and what it would have meant to those who heard about it first. As I was praying and prepping for the messages I would teach in the weeks of December, God brought into my mind that to take this whole "love thy neighbor" thing seriously, my wife and I should give away more money than we spend on ourselves this Christmas. (Although I didn't realize it at the time, God had placed the same message in my wife's heart.)
With tears of great joy and freedom, my wife and I agreed and then proceeded to ask the dangerous and wonderful question, "Okay, Lord, who's going to get all this money?"
We had a blast giving it away and living the revolution of Christmas as we celebrated the giving of God's Son—what Paul called "a gift too wonderful for words!"