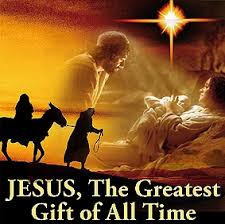 http://archive.org/details/wolcottchristianchurch.org--jesus-gods-gift--jesus-gods-gift-part-1-gods-plan
God's Perfect Plan: Jesus
Mary conceived through The Holy Spirit to give birth to Jesus. There are many miraculous events in the Christmas Story. At the center of all the miraculous events was the birth of the Messiah and Savior Jesus Christ.
Matthew 1:18-21, "This is how the birth of Jesus the Messiah came about: His mother Mary was pledged to be married to Joseph, but before they came together, she was found to be pregnant through the Holy Spirit. 19 Because Joseph her husband was faithful to the law, and yet did not want to expose her to public disgrace, he had in mind to divorce her quietly. 20 But after he had considered this, an angel of the Lord appeared to him in a dream and said, "Joseph son of David, do not be afraid to take Mary home as your wife, because what is conceived in her is from the Holy Spirit. 21 She will give birth to a son, and you are to give him the name Jesus, because he will save his people from their sins."
Marjorie Kitchell in article written for Leadership Journal shared this:
I had hoped to illustrate the availability of God's gift of salvation. "Whoever wants this beautiful Christmas poinsettia may have it," I said to my Sunday morning congregation. "All you have to do is take it." They stared at me. I waited. And waited.
Finally, a mother timidly raised her hand and said, "I'll take it."
"Great! It's yours." That's what I wanted. Quick and easy, and on with the application of my sermon. But to my astonishment, she nudged her son, "Go get it for me."
"No," I said. "Whoever wants this gift must come and get it personally. You can't send a substitute."
She shook her head, not willing to risk embarrassment. I waited again. It was a gorgeous flower, unusually large, wrapped in red cellophane with a gold satin ribbon. It was set in front of the pulpit to brighten our small sanctuary during the holiday season. Several people had commented on how beautiful the plant was. Now it was free for the taking.
Someone snickered, "What's the catch?"
"No catch," I replied. "It's free!" No one moved.
A college student asked, "Is it glued to the altar?" Everyone laughed.
"It is not glued to the altar. Nor are there any strings attached. It's yours for the taking."
"Well," asked a pretty teenager, "can I take it after the service?"
I shook my head, though I was tempted to give in. "You must come and get it now." Today is the day of salvation, I thought as I marveled at the power of passive resistance.
I was beginning to wish I'd never started the whole thing, when a woman I'd never seen before stood up in the back. Quickly, as if she were afraid she'd change her mind, she strode to the altar and picked up the plant. "I'll take it," she said.
As she returned to her seat carrying the free gift, I launched with enthusiasm into my text, (Romans 6:23). "The gift of God is eternal life. Believe. Receive. It's free!"
When the service had ended and most of the people had gone home, the woman who claimed the poinsettia came to the platform, where I was picking up my Bible to leave.
"Here!" She held out her hand. "This flower is too pretty to just take home for free. I couldn't do that with a clear conscience." I looked down at the crumpled paper she stuffed into my hand. It was a $10 bill.
Folks God's plan of redemption for you and I is free. We can't earn it, but you can believe it.