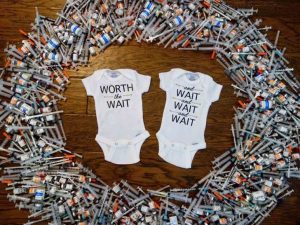 Good morning,
I went over again and again how to retell this story in my own way, how to put my spin on it, finish it, until it dawned on me last night that I cannot, should not and will not!
My best friend wrote this piece for you and I cannot risk tainting it with the wrong words, it is such a beautiful snapshot of the struggle her hubby and her have been living through the past few years, the struggle so many moms go through.  Please remember as we approach mother's day that all of us are not blessed with the joy of motherhood; because He gives AND He takes away, but He is good, today, tomorrow and always.
*Ring, Ring, Ring**
A young woman sitting at her desk looks down at the cell phone and instantly recognizes the number flashing across the screen.
"It's the lab" she whispers as she slowly gets up on shaky legs and makes her way to the hallway. "Please….PLEASE!" she says to herself as she answers the call. "Hello?" she asks. "Hello, this is Jane from the lab, we have your blood-work back…" Yes?" the young women says trying not to panic. Jane hesitates, then says "I am sorry, your numbers have dropped….the results show that you have lost this one as well."
The young lady is silent as she fights back her tears and tries to steady her breathing. Jane clears her throat and says "You need to come back in to get more test and make sure….that we do not need to help the process." The young women hangs up and slides to the floor and cries.
Women will tell you all the wonderful emotions a mother goes through while raising her children. You will hear how hard it is, or how rewarding, but what no one talks about is what happens if you can't become a mother.